Applied Nuclear Physics
Laboratory of gamma spectrometry and nuclear activation analysis
Equipment:
DT neutron generator MP320, Thermo Fischer Scientific (10

8

neutron/s, energy 14 MeV)
Scintillation gamma spectrometer spektrometr NaI(Tl) (3" x 3"), type 802, Canberra
Semiconductor low-background well gamma spectrometer HPGe GWD-3023, Baltic Scientific Instruments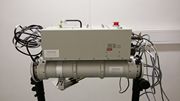 DT neutronový generator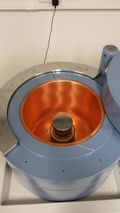 Scintillation gamma spectrometer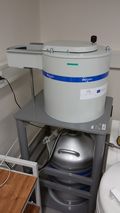 Semiconductor low-background well gamma spectrometer
Aims and scopes:
Gamma spectrometry
Environmental radioaktivity (radon in water, mushrooms, cosmogenic

7

Be)
Detection efficiency modelling for various geometries
Neutron physics
Neutron activation analysis
Measurement of neutron flux (Texas convention method)
Monte Carlo simulations of radiation fields
MCNP simulations of radiation field for dosimetry purposes
Simulations of photon and neutron spectra
Nuclear models
Spectra, electromagnetic transitions and direct nuclear reactions in Quasiparticle-Phonon Model and Intermediate-Coupling Model
HFB calculations of grand-state deformations using Skyrme interaction
Collaborations:
Institute of Technical and Experimental Physics, Czech Technical University Prague (doc. Štekl)
Institute of particle and nuclear physics, Charles University, Prague (prof. Kvasil)
Technical University of Grenoble, France (Dr. Thiamova, Dr. Simpson)
Nuclear Physics Institute in Dubna, Russia (Dr. Hons)
Selected publications:
Experimental and theoretical nuclear physics:
G. Thiamová, P. Alexa, Z. Hons, G.S. Simpson, Examination of different strengths of octupole correlations in neutron-rich Pr and Pm isotopes, Phys. Rev. C 86, 044334 (2012).
A.I. Levon, G. Graw, R. Hertenberger, S. Pascu, P.G. Thirolf, H.-F. Wirth, P. Alexa, 0

+

states and collective bands in

228

Th studied by the (p,t) reaction, Phys. Rev. C 88, 014310 (2013).
A.I. Levon, P. Alexa, S. Pascu, V.A. Onischuk, P.G. Thirolf, To the nature of 0

+

states studied in

228

Th by two-neutron transfer, Nuclear Physics and Atomic Energy 15, 7 (2014).
Levon, A.I., Alexa, P., Graw, G., Hertenberger, R., Pascu, S., Thirolf, P.G., Wirth, H.F., Spectroscopy of U-232 in the (p, t) reaction: More information on 0(+) excitations.

Physical Review C 92

, 064319 (2015).
Ramdhane, M., Simpson, G.S., Drouet, F., Malkiewicz, T., Vancraeyenest, A., Gey, G., Alexa, P., Thiamova, G., Kessedjian, G., Sage, C., Grahn, T., Greenlees, P.T., Hauschild, K., Herzan, A., Jakobsson, U., Jones, P., Julin, R., Juutinen, S., Ketelhut, S., Lopez-Martens, A., Nieminen, P., Peura, P., Rahkila, P., Rinta-Antila, S., Ruotsalainen, P., Sandzelius, M., Saren, J., Scholey, C., Sorri, J., Uusitalo, J., Study of intermediate-spin states of 98Y.

Acta Physica Polonica B, 47 (3)

, 911 (2016).
Applied nuclear physics:
R. Uhlář, P. Alexa, J. Pištora, A system of materials composition and geometry arrangement for fast neutron beam thermalization: an MCNP study, Nucl. Instrum. Meth. B 298, 81 (2013).
R. Uhlář, M. Kadulová, P. Alexa, J. Pištora, A new reflector structure for facility thermalizing D-T neutrons, J. Radioanal. Nucl. Ch. 300, 809 (2014).
A. Synytsya, A. Synytsya, P. Alexa, R. Wagner, M. Davídková, K. Volka, Raman spectroscopic study on sodium hyaluronate: an effect of proton and gamma irradiation, J. Raman Spectrosc. 42, 544 (2011).
R. Uhlář, P. Količová, P. Alexa, Short-term variations in

7

Be wet deposition in the eastern part of the Czech Republic, J. Radioanal. Nucl. Ch. 304, 89 (2015).
Contacts:
Group leader:
Group members:
Ph.D. students:
Mojgan Abolghasem
Ing. Ondřej Harkut
Undergraduate students: