Laboratory of magnetism and low temperatures
Measuring method:
Magnetometry based on the sample vibration.
Laboratory equipment:
Vibrating sample magnetometer (VSM) Microsense, vector coils for sensitivity to longitudinal and transversal magnetization component, set of sample holders from Pyrex, analytical balance VIBRA HTR-220 CE, desiccator Autostar, Dewars for liquid nitrogen (25 and 35 litres).
Investigated materials:
Solid ferromagnetic and ferrimagnetic materials – thin films, multilayers, bulk magnetic materials, amorphous and nanocrystalline materials based on Fe, Co and Ni; magnetic powders and liquids.
Investigated quantities of materials:
bulk hysteresis loops and their parameters (coercive, anisotropic and saturation field, saturation and remnant magnetization, permeability, loop area, BHmax, etc.), virgin curves
vector magnetometry – due to vector coils sensitivity to longitudinal (parallel with magnetic field) and transversal (perpendicular to magnetic field) component magnetization
analysis of magnetic anisotropy due to rotation of the sample by 400°
temperature magnetic measurements in the range from -170°C to 720°C, estimation of Curie temperature
study of magnetic interaction using the Henkel plots
measurement of magnetic resistance in the range 1mΩ up to 1MΩ at temperatures from -150°C to 400°C
Tab. 1 Technical parameters of vibrating sample magnetometer VSM
Maximal magnetic field
26 000 Oe at gap 5 mm between pole extensions
24 000 Oe at gap 10 mm between pole extensions
Field resolution and noise
Range
Resolution (Oe)
Noise (rms, Oe)
32 kOe
1
0,050
3,2 kOe
0,1
0,015
320 Oe
0,01
0,010
32 Oe
0,001
0,004
Magnetic moment
Dynamic range

0,1 μemu – 100 emu
Noise (without loop averaging)

1 μemu at gap 5 mm between
pole extensions

1,5 μemu at gap 10 mm between
pole extensions
Sample dimensions
Limited in one axis by the gap of pole extensions (min. 5 mm, max. 85 mm), other dimensions unlimited
Temperature measurements
Temperature range

from -170°C až 720°C, resolution 0,1°C
Maximal magnetic field

21 000 Oe
Sample dimensions

Temperature chamber has the shape of cylinder with inner diameter
10 mm and height 50 mm
Magnetic resistance
Resistor range

from 1mΩ až 1MΩ
Temperature range

from -150°C až 400°C
Sample dimensions

Cuboid: width 3 mm, min. length 10 mm and max. height 3 cm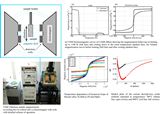 Laboratory of magnetism and low temperatures